VinaSoft Desktop Lock
VinaSoft Desktop Lock is an excellent software for protecting your privacy. It allows you to lock your Desktop screen when you do not want people to access your computer. To unlock it you must provide the same password when you locked.
Running VinaSoft Desktop Lock
When you installed VinaSoft Desktop Lock it will installed the icon into the status bar. To run the VinaSoft Desktop Lock right click on the icon.

you are presented with the Menu following screen:

Locking Desktop - Click on Lock Desktop menu to lock.
The Desktop will be lock as below screen

Unlocking Desktop - Enter the password into the password box and press "Enter" to unlock
Create password
Right click on the icon select from the Menu Password > New

At the below screen you can create your "password". This password will be used to unlock the desktop.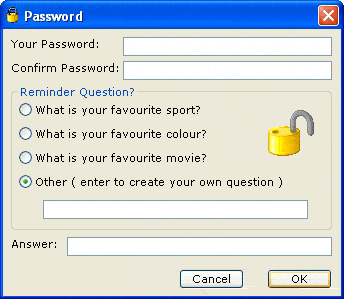 entering your password into "Your Password:" box and type your password again into the "Confirm Password:" box.
VinaSoft Desktop Lock also needs a password hint that will help you to retrieve your password incase you forget it. You can select one of the built in reminder question or create your own question. Once you have selected or created the question then entering the answer in the "Answer:" box. Click "OK" button to create your password.
Once your password have created it you can run it to lock your desktop.
Check for update
Select the check for update from menu Help > Check for update....to get the newversion

if there is a newer version it will then downloaded the update vdl file to your local computer. When the file download completed it will be automatically install and overwrite the oldversion with newone. You can always click cancel to cancel the download operation.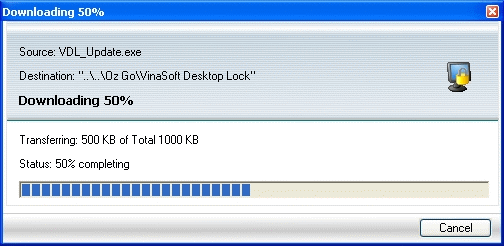 If you can not find your answers in the Frequently Ask Question don't hestitate to contact us for any help.