Secret Folder
Using Vinasoft Secret Folder
Vinasoft Secret Folder is an excellent software for protecting your sensitive data. This software allows you to lock away any folder on your hard disk so that it is inaccessible by anyone.
Once you have locked your folder(s) away, it is invisible and simply disappear to Windows and anyone using it.
Starting Vinasoft Secret Folder for the first time
When you start Vinasoft Secret Folder for the first time, you will be presented with the below screen. This screen also for you to modify, recover your password if you forgot.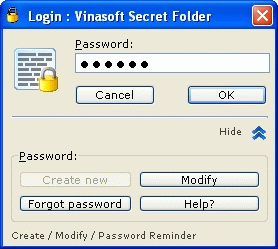 At this screen you can create your "password". This password will be used to run Vinasoft Secret Folder when ever you want to lock or unlock folder(s).
To create your master password, click the "Create" button.
The following screen will be displayed: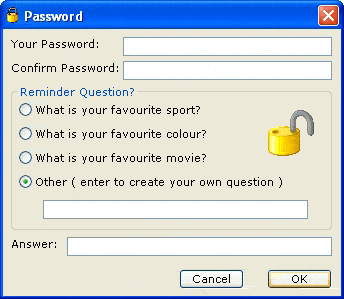 entering your password into "Your Password:" box and type your password again into the "Confirm Password:" box.
Vinasoft Secret Folder also needs a password hint that will help you to retrieve your password incase you forget it. You can select one of the built in reminder question or create your own question. Once you have selected or created the question then entering the answer in the "Answer:" box. Click "OK" button to create your password.
Once your password have created it will returned you to the log in screen now you can type in your password to log in.
Locking away your folder(s)
After logging in you are presented with the following screen: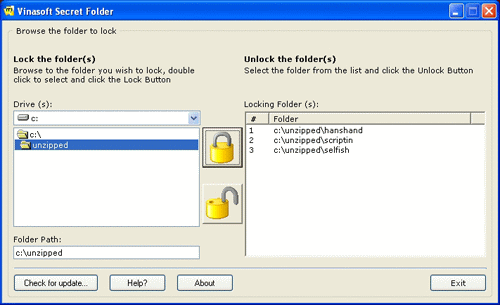 To lock away a folder:
Navigate to the folder you wish to lock away through the folder list on the left panel

Double click the folder to select that folder

Click the button with the "Padlock Lock" icon

Your folder is now locked away and will be invisible to anyone using your computer. It's as simple as that.
Unlocking your Folder(s)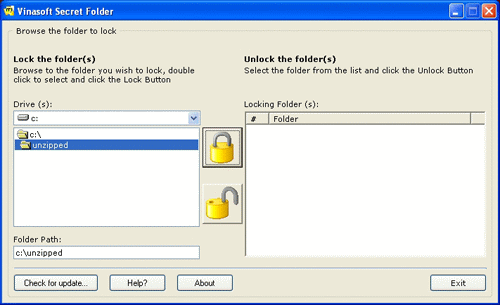 Log into Vinasoft Secret Folder

Your list of locked folder(s) is shown on the right panel

Click to select the folder you wish to unlock and click the button with the "Padlock Unlock" icon.

You can now view and modify the files as you normally would.

If you wish you can re-lock your folder by following the steps "Locking away your folder(s)" outlined above.
If you can not find your answers in the Frequently Ask Question don't hestitate to contact us for any help.